THURSDAY INTERNATIONALS' MEDITATION PROGRAM
PRAGUE MEDITATION CENTER from 4. 6. 2020 - 6 pm
What is our course about?
The course content can be described with the phrase 'No inner evolution and peace without meditation'. Accordingly, meditation practice constitutes the main part of this course. Our course is about the 'Self', providing you with a basic theory and simple set of practices so that you may better acquaint yourself with our own true nature. The result will be a deep and enjoyable transformative experience.

What will we do?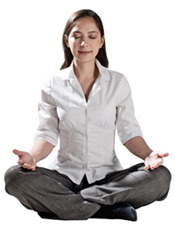 meditate under the guidance of experienced lectors (up to 18+ years of personal practice)
familiarize ourselves with our subtle body in the best possible manner – using newely obtained subtle sensitivity and profound knowledge of lectors
learn and practice balancing and treatment techniques
learn to introspect properly
learn very basic protection methods
learn the basics about energetic safety
and obtain general recommendations for self-improvement and enhancing the path of our personal and collective spiritual growth
What will we achieve?
Kundalini energy awakening
take the first steps towards establishing ourselves in the state of Atma-sakshat-kar (state of the pure Spirit)
rise above the commotion of our own thoughts by really touching the first stage of Nirvana state – Nirvichara Samadhi (thought-less awareness in a blissful state).
Improved quality of life for ourselves as well as others
boost our SQ (Spiritual Quotient) and learn how to help others in doing the same
achieve better health
and a more balanced meaningful life
Organisational notes:
Come as you are, no special clothes or mats are needed. The course payment is voluntary, according to each participant's ability.
If you have questions please call 605 726 711.
We look forward to meeting you at our course,
Your lectors team